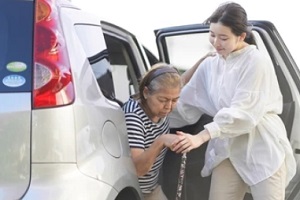 For seniors who are no longer able to drive, there are affordable private and public transportation options. Finding and understanding these options can seem difficult, especially for the senior. A family caregiver, social worker, or some other loved one can help with researching options, enrolling the senior, and helping them learn how to schedule and use the transportation service.
Consider the qualifications and demonstrated history of any service (including testimonials). Also, consider pick-up locations, ride ordering procedure, hours of operation, routes, and the intended purpose of the trip. It is recommended that the senior rider have a cell phone and be familiar with how to use it, not only for communication but for ride planning and to enable a loved one to follow the rider's location should something go wrong on the journey.
Payment Assistance and Costs
For elderly people who are no longer able to drive themselves, the cost of travel can vary substantially. Public paratransit services, which provide specialized transportation for seniors and the disabled, are approximately twice as expensive as regular public transportation. There are volunteer driver programs that offer rides for free, but others may charge $5 to $10 for each trip. Private transportation costs anywhere from $25 to $50 per trip, much more than public transportation although often faster and more convenient.
Medicaid provides a variety of transportation options for seniors and disabled people. Before going any further, it's important to know that Medicaid isn't a single program but actually a collection of various programs with different services. Furthermore, the services offered by these programs vary by state and sometimes by zip code. Some Medicaid programs, via Home and Community-Based Services (HCBS) waivers, can pay for transportation if a trip is for a medical appointment with a doctor or physical therapist, although this is not always the case.
Another way Medicaid can help is by paying for a Personal Care Attendant (PCA), who can accompany an elderly or disabled person on paratransit services. Non-emergency medical transportation can also be covered by regular Medicaid. Often Medicare Advantage programs offer transportation to medical appointments.
Programs for Volunteer Drivers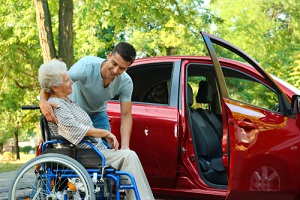 As the name implies, these are non-profit organizations where volunteers provide door-to-door transportation for aging and disabled people. The nature and way in which rides are provided vary from organization to organization. Also, not all regions of the nation have ride organizations. If driving their own vehicles (which is most common), volunteer drivers are usually unable to transport motorized wheelchairs. However, drivers are usually able to assist their passengers in getting from their homes to their destinations because there is normally only one passenger.
Once you've signed up for the program as a passenger, you'll need to book particular rides, which usually must be booked a few days in advance. What type of free rides are allowed can vary between organizations. Rides can most often be used for medical, legal, or grocery store visits. Emergency medical transportation, on the other hand, is not an option – for these always use 911. Volunteer driver programs are either free or very low-cost. At the Shepherd's Center of Northern Virginia (SCNOVA), they are provided at no cost to the rider, unless there are tolls or parking fees involved in a trip.
Interested in Volunteering?
Volunteers with SCNOVA have the opportunity to make a huge difference in the communities we serve, by directly touching the lives of needy seniors. In addition to a desire to serve, a good driving record, and no criminal record, there are some basic attributes that volunteers should possess, as well as some expectations.
Volunteers should be caring and enjoy spending time with our elderly clients. When performing their volunteer work, they should be reliable, prompt, and dependable. Volunteers should be friendly and willing to talk, have a calm disposition, and, ideally, have a good sense of humor.
Most volunteers find great reward in helping non-driving seniors get to important appointments. Our clients are friendly and very appreciative of the assistance. Volunteers often develop strong relationships with the people they give rides to, and the social interaction and kindness shown in driving someone benefits both driver and client. And you can drive on your own schedule, by accepting drive requests that work for you.
Join SCNOVA's Senior Citizen Transportation Volunteer Program Today
To learn more about how to become a volunteer transportation driver for senior adults, contact the Shepherd's Center. SCNOVA can provide you with the opportunity to aid a senior citizen with companion transportation. Contact us for more details today!