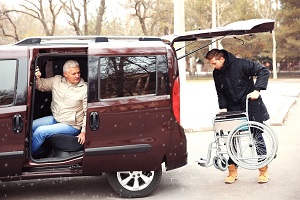 The mismatch between average life expectancy and driving expectancy has meant that many older people are left without the ability to drive in later life. This poses more than an inconvenience; it also means the loss of freedom, control and independence for many older people.
Moreover, the same physical and cognitive limitations that have stopped them from being able to drive safely also make it complicated or even impossible for them to take advantage of public transportation options within their community.
Volunteer-Based Senior Citizen Transportation Services
Many communities have organized senior transportation services that have volunteers drive older people wherever they need to go at no cost. The National Volunteer Transportation Center recently compiled and published feedback from volunteer driver programs and their participants in a guide known as Passenger Stories of Gratitude: Stories About Volunteer Driver Programs and Their Drivers to show the public the significant impact that these programs can have on their lives.
It is important reading not only for anyone who is concerned about how their aging loved ones will get around but also for those who are considering volunteering for such services. The ability to influence someone's life so profoundly and inspire such intense gratitude makes this a particularly rewarding type of volunteering.
Outlined below are some of the most common reasons cited by passengers for appreciating these programs.
It Allows Them To Stay In Their Community
Many senior citizens appreciate the fact that these programs allow them to remain in their home, even if they do not live somewhere with good public transportation connections. Some elderly people find that they need to move to a more convenient location once they lose the ability to drive, but these programs mean that is not always necessary. Many older people appreciate being able to remain in what is a lifelong home in comfortable surroundings and still be able to get to appointments and visit friends.
For example, one 67-year-old passenger with vision problems that make her unable to drive stated that it takes 1.5 hours to take the bus to the grocery store, whereas it is just 20 minutes away by car, which means she saves considerable time with help from the program. Several other passengers reported that they do not think they would be able to continue living in their home if they did not have access to senior citizen transportation services.
It Gives Them The Opportunity To Socialize
Many passengers have expressed their gratitude for their drivers and the socialization they enjoy while en route. In many cases, people using these services have outlived their spouses, friends and siblings and have few people to talk to. The conversations they have with their driver may be the only contact with the outside world some older people will have, and many look forward to it all week.
In many cases, passengers are able to use the same driver on a regular basis, allowing them to get to know one another and have more meaningful conversations. Some find that they share hobbies with their drivers, giving them the chance to talk about something they love.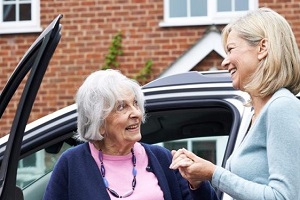 One 85-year-old woman who never learned to drive and depended on her husband to bring her everywhere explained how she did not leave her house for more than a year after he died. After a friend encouraged her to call a local senior citizen transportation program, she expressed her appreciation for the friendliness of the drivers and the chance to form friendships with those transporting her.
Some passengers have even reported that the friendships they have formed with their volunteer driver have led to regular social outings together, such as dining out or museum visits.
It Allows Them To Maintain Friendships And Community Connections
While the practical benefits of being able to get to medical appointments and grocery shopping are clear, the highlight of these programs for many older people is the way it allows them to maintain their connections with the community and their friends.
A 65-year-old woman reported that she feels her mental and physical health have improved since she started using a senior transportation service to get out in the community and connect with friends at senior exercise classes.
One 103-year-old woman explained how getting around is difficult because her family members work all day, and the long North Dakota winters can take a toll on her mental well-being. Her volunteer driver suggested that the two of them start taking another of her passengers, who was depressed due to the recent loss of her sister, to lunch a few times a month to cheer her up. She described how the woman eventually came out of her shell and started laughing again, and she expressed gratitude that the service was able to provide this valuable lifeline.
Reach Out For Senior Citizen Transportation
If you or a loved one in the Northern Virginia area need help getting around, reach out to Shepherd's Center of Northern Virginia to learn more about participating in our senior citizen transportation service.