Current Announcements
(August 2 2023) Active Aging Wellness Via Zoom Begins

The current session ends 7/26/23. We plan to start the next 8-week session of the SCNOVA Active Aging Wellness class via Zoom on Wednesday, 8/2, from 10:45 am to 11:45am, ending on Wednesday, 9/20/23.  It will focus on low impact exercises, balance, coordination and stretching, and cost $50 for the 8 week session.
Please confirm to, eileentarr1@verizon.net, that you want to attend the next session!  After you are registered,  directions on how to pay online or by check will be sent and we will provide an invitation link to connect to the Zoom virtual class.
(May 11 2023) In search of a Volunteer Co-facilitator of the SCNOVA Caregivers Support Group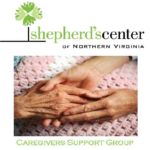 Will gently guide a support group of caregivers for family members with dementia.  Previous facilitating training or experience is a plus, but not required.  Must be a good listener, patient, and able to lead or guide groups. Will be trained by an experienced facilitator. The group meets via Zoom 10 – 11:30 AM, the first and third Tuesday of the month.
Contact Jack Tarr –  jtarr5@verizon.net 
(Apr 4 2023) AIL Spring 2023 Registration Day Apr 13 10-11:30 am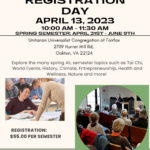 Come meet the Adventures in Learning staff and fellow students.  Grab some coffee and donuts.  Have your questions answered.  Register for the upcoming Spring semester – classes starts Apr 21st!  Check our calendar for location and updates.
Questions?  Call us at (703)260-9568
(Jan 6 2023) AIL Open House Jan 19 10-12 am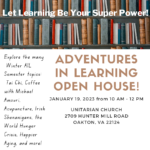 Come meet the Adventures in Learning staff and fellow students.  Grab some coffee and donuts.  Have your questions answered.  Register for the upcoming Winter semester – classes starts Jan 27!  Check our calendar for location and updates.
Questions?  Call us at (703)260-9568
(Nov 17 2022)  SCNOVA Volunteer Nationally Recognized
One of our own, Jayne Young, was awarded the Smith Volunteer Leadership Award by the national Shepherd's Centers of America organization.   This award recognizes exceptional volunteers with the SCA Network for their service in helping older adults lead meaningful lives through connection with each other and their community. This is the only national volunteer award recognizing older adults in service to communities to help older adults age with dignity, meaning, and purpose.
The Press Release from Shepherd's Centers of America can be viewed here:  Jayne Young_SCNOVA DOS Award Honoree.
Our exceptional team of volunteers are extremely important to SCNOVA's ability to provide our services to seniors.  Jayne exemplifies the selfless and compassionate service rendered by all our SCNOVA volunteers, and affirms the worth of the work we do for those we serve.  We are proud that she earned this recognition.  We encourage you to send your congratulations to her as well.
(Oct 2022)  In Memory of Bill Kirby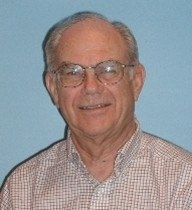 Bill Kirby served our Shepherd's Center Board of Directors for nearly 15 years. During his tenure, he helped advance many programs and services for our community. He also was the point person for assisting many neighboring Shepherd's Centers to get started. He served as chair of Development and many other committees. Bill served as Vice Chair of the SCOV Board of Directors and used his experience as a foreign service officer as well as his personal skills to make many improvements in Shepherd's Center operations and to serve as a coach to individual members. A number of people considered him their personal mentor. In addition, Bill served as the Vice Chair of the national Shepherd Centers of America for 5 years providing them with his wisdom and wise counsel. Bill will certainly be remembered and missed by many in our community for his tireless dedication to the SCOV, its volunteers and clients. We will miss him dearly. 
(Sep 2022)  Please welcome Marianne Monek as our new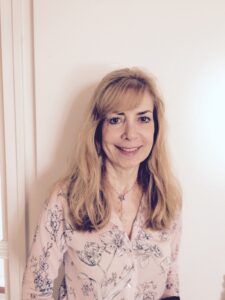 Volunteer/Operations Manager. Marianne Monek is very excited to join our team at the Shepherd's Center of Northern Virginia as Operations/Volunteer Manager. Marianne's experience ranges from teacher/principal over the years and was very active on the volunteer boards of her daughters' schools. She previously served as the Director of Volunteers and Patient Relations for 15 years at Sibley Memorial Hospital. In her position, she supervised recruiting, orienting, coordinating and implementing all volunteer activities. One of her achievements was the creation of the Patient and Family Advisory Council which included all patient volunteers with the goal of improving patient and family centered care. Her belief is that volunteers play a very important role in our communities giving service to enhance the lives of our neighbors and creating an environment for volunteers to have a positive and productive experience. She is very committed to SCNOVA and the mission of "Supporting Aging in Place."
Marianne grew up in Cherry Hill, New Jersey. She graduated from St. Joseph's University in Philadelphia, being one of the first women to attend the former all-male school. She studied at the University of Dijon, France and did graduate work at George Mason University and Trinity University in Washington, DC. She currently lives in McLean, Virginia and is the mother to two daughters, Kristin and Caroline. Although they are both adults, they continue to be the light of her life. She looks forward to working with everyone to continue to provide meaningful service in the community.
COVID policy and procedures.  Covering both our in-person services and in-person events.  More information here