It's important for everyone to be in good health, but this is especially true for older adults. Health and Wellness takes on special importance as we age. Aging creates unique challenges, among these: our bodies naturally lose muscle mass and muscle strength, we lose limberness and flexibility (which can be further impacted by arthritis), the risk of falling increases, and we exercise less, reinforcing the cycle. In addition, we can become more socially isolated, and may not develop new friends as easily as when we were younger – the resulting loneliness can also impact our health. Finally, working to maneuver an increasingly complex  health care environment can become more and more of a challenge and lead some to 'give up'.
Shepherd's Center of Northern Virginia (SCNOVA) has several programs to assist seniors to maintain their health and well-being. These include health advocacy, varied exercise programs targeted to the special needs of older people, interesting  educational workshops and seminars for seniors on many topics including health, and a range of social events throughout the year that are fun and create opportunities to meet and enjoy others.
Health Advocacy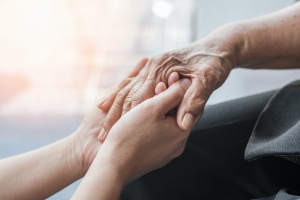 Health advocacy is the process of promoting activities that are beneficial to a person's physical and mental wellness. A health advocate volunteer can provide blood pressure screenings, health education and counseling, and offer clients referrals to community resources that can help improve their well-being. Health advocacy volunteers personalize their services based on the client and their needs.
See here for more information on our Health Advocacy service.
Classes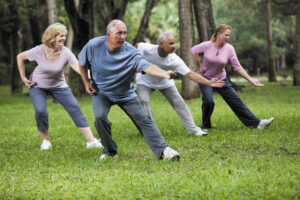 SCNOVA offers two types of Health and Wellness classes to choose from. We offer exercise classes allowing you to exercise in person with a class or via Zoom, and we offer educational seminars and workshops on a range of health topics throughout the year. Some of the classes are offered through our Adventures in Learning (AIL) Semester Series where for one small tuition fee you can participate in any of the various classes offered as part of the AIL Semester Series during the semester. The seminar curriculum changes somewhat each semester but the exercise classes are largely the same. From time to time, we also offer select classes and one-time seminars or workshops either free of charge or for a small fee. Our current roster of Health & Wellness classes includes:
Active Aging Wellness – an exercise class to support balance and strength with a focus on fall prevention. For more information, see here.
T'ai Chi – an exercise class teaching the ancient moves of T'ai Chi promoting strength and flexibility through gentle movement. For more information, see here.
Wellness topics in the AIL Semester Series – Wellness is only one of the educational areas offered in a typical AIL semester. For the current offering and more information, see here.
Social Events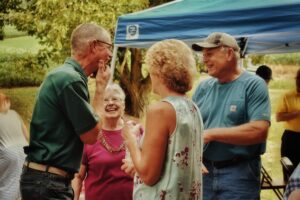 SCNOVA hosts a range of social events throughout the year, for fun and fellowship, for both our clients and our volunteers. These can range from holiday celebrations, to community gatherings, to special interest events and even our Annual Gala. For more information on past and upcoming events, please see our Social Events page.