Staff
---
Carolyn Pennington
Executive Director
Carolyn joined the Shepherd's Center in July 2021 after serving older adults for many years with options pertaining to senior living. During this period, she found great satisfaction in expanding her knowledge areas to further aid those with cognitive decline and dementia. She has contributed to and supported various senior-serving organizations including Dementia Friendly Herndon; the local chapter of the Alzheimer's Association Walk to End Alzheimer's as well as local community and professional networks that support older adults. The Shepherd's Center of Northern Virginia has long been an admired community partner and Carolyn is thrilled to be able to serve the expanding communities of Reston, Herndon and Great Falls in addition to Vienna, Oakton and Dunn Loring.
Carolyn grew up in Vienna, Virginia, and resides in Reston with her husband and daughter. She and her family have a faith centered life and enjoy golfing, skiing, and biking – basically anything outdoors and being together.
---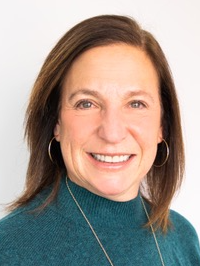 Laurie Granger
Marketing Manager
Laurie has over 20 years of experience in cause-related, experiential, sports and event marketing. Laurie's background includes public relations, operations, volunteer management, sponsorship sales and marketing. Laurie enjoys working in a team environment to reach like-minded goals. Laurie is also a personal trainer and group fitness instructor. When Laurie isn't working, she spends time with her husband Matt and keeping up with her three children all currently away at college.
---
Erin O'Reilly
Operations/Volunteer Manager
Non-profit service is a passion for Erin. Before joining SC in June 2020 she most recently was the Office Director for the Shepherd's Center of Annandale-Springfield. It was there that she realized working with the volunteers was her favorite part of this senior-focused organization.
Erin traveled to over 45 different countries as an Army military spouse over the past 16 years. During that time she worked as a civilian Human Resources Specialist within the US Army, a Data Analyst at US Embassy Tanzania, and an e-Commerce and Marketing freelancer on Amazon Marketing Services platform.
Erin and her husband reside in Annandale, Virginia, with their two young sons. In her free time, she enjoys hiking, gardening, volunteering, and being with her family.
Board of Directors
---
Scott Schroth, MD
Board Chair, Executive Committee, Chair Policy Committee, Co-Chair Volunteer Committee
Scott is a pro at assessing problems and coming up with workable solutions. Serving as a practicing primary care physician and associate dean for students at The George Washington University School of Medicine and Health Sciences for 30 years, he came to understand that many of seniors' challenges lie in the personal and social spheres. That is why he brought his ingenuity to the SC Board in 2018 after giving up his practice.
Scott is engaged in energizing and better recognizing SC volunteers to improve their experiences. An additional goal is enhancing recruitment, streamlining SC procedures, and assuring that volunteers feel heard and well served by the organization. As a volunteer driver and handy helper, Scott has found great joy in assisting the elderly to age gracefully in place.
Scott and his wife, a retired FCPS special education teacher, have lived in Vienna, VA, for 30 years where they raised two children.
---
Stephanie Arnall
Co-Chair Finance Committee, Audit Committee
Stephanie is no stranger to hard work and multi-tasking as she juggled her family and professional accounting roles at Arthur Anderson, Meritor Savings Bank, Peterson & Co. and as vice president-Capital Planning and vice president/controller at Riggs National Bank of Washington, D.C. She earned her Bachelor of Business Administration degree from The College of William & Mary.
Her tenacious attention to detail has been put to good use since joining the SC Board in January 2013. Stephanie works closely with the executive director on the annual budget and the executive committee. Her input on the finances has enabled SC to show a steady growth of programs and services that meet the critical needs of seniors in the communities we serve. Stephanie strongly supports SC's mission to promote and support purposeful, independent living for seniors to age in place as a result of the struggles her mother faced while serving as her father's primary caregiver.
Stephanie is a multi-faceted pro with her various volunteer roles on her daughters' PTA boards and athletic boosters clubs. In her spare time, she enjoys running, exercise, and reading.
---
Leigh Banducci
Board Treasurer, Executive Committee, Chair 2020 Gala Auction, Co-Chair Finance Committee
Leigh, a former CPA for KPMG for most of her career, brought her talents to SC and became its volunteer bookkeeper to help the organization focus its limited financial resources in other areas. She joined the Board in 2019 to continue promoting the important contributions SC makes to the local community. Leigh states, "It would be great if every town had a Shepherd's Center!"
A resident of Fairfax County for nearly her entire life, she strives to help others who don't have family close by. Leigh keeps active with her teenage son and college-aged daughter and enjoys hiking and kayaking with her husband.
---
Joe Bock
Marketing Strategy Committee

Joe joined the Board in May 2021. He brings over 25 years of brand and marketing experience to the SC organization. He currently is VP of Brand & Product Marketing at Navy Federal Credit Union in Vienna, VA.
Joe began his career in the advertising world, having worked at global agencies in Chicago, Los Angeles and Minneapolis, before moving to Virginia 2 years ago. Throughout his agency career, he has worked with a wide array of clients, from non-profits and associations to consumer goods and financial services. He started with Navy Federal in 2020 where he oversees branding, product marketing, sponsorships, and social media.
Joe earned his BA from Central College in Iowa and his MBA from the Thunderbird School of Global Management in Arizona. When he's not working, he enjoys spending time with his wife, daughter and their puppy.
---
Richard Duesterhaus
Chair Advisory Committee
Rich, one of the founding board members of the SC, was instrumental in helping to plan and organize SC's services more than 20 years ago. Who better than a "detail man" brimming with SC history to serve as the current chair of SC's Advisory Board as the Center continues to focus on vigorous expansion to meet the needs of its current and future volunteers and clients.
Being a local resident of Northern Virginia for more than 44 years, Rich has witnessed firsthand the meaningful role SC plays in the community.
He retired as the deputy chief for Science and Technology with the USDA Natural Resources Conservation Service after having worked as director of Projects and Partnerships for the National Association of Conservation Districts headquartered in Washington, D.C.
---
Tom Eversole
Member
Tom joined the Board in February 2021 after the Shepherd's Center of Northern Virginia was established. He has served on the Board of Directors for Shepherd's Center Great Falls; Annandale-Springfield and McClean-Arlington-Falls Church. Tom was instrumental in helping organize NV Rides, a coalition of transportation providers, and serves on the NV Rides advisory council.
He is a retired Naval Officer where he served 23 years in the military. After his retirement from the Navy, he began a second career in industry and established the American Helicopter Services and Aerial Firefighting Association, where he served as the Executive Director until November 2015. In addition, Tom was the Chief Financial Officer for a defense contracting firm in Arlington, VA.
---
Bill Farrell
Executive Committee, Vice-Chair Advisory Committee, Policy Committee
Bill, a guru of information technology for 30 years, a former baseball player, avid golfer, and father of three, brought his volunteer spirit to the Board in 2008. He was looking for a place to "give back to the community" and has succeeded in doing that time after time.
Bill has been a cornerstone of SC growth by serving as its treasurer, Development Committee co-Chair and Chairperson. He relishes new ideas and welcomes opportunities for involvement outside of the local area. This is one of the reasons he served as treasurer for the national Shepherd's Center of America from 2009 – 2015. With a solid history of leadership roles at the Southern New England Telephone Company, the Marriott Corporation, and Fannie Mae, it's no wonder that Bill is the dynamic chair he is.
---
Kimberly Greer
Chair Marketing Strategy Committee, HR/IT Committee
Kim, new to the BOD in 2019, chairs the SC's marketing committee and brings 20-years of communications, branding, and marketing expertise to help broaden SC's community outreach efforts. She currently directs marketing and business development for Odin, Feldman & Pittleman, a full-service law firm based in Reston, VA.
Kim began her communications career as a business reporter for The Poughkeepsie Journal and later produced a marketing column for Crain's Cleveland Business. She also contributed to Advertising Age and created and led strategic marketing and communications campaigns for EDS Corp., Booz Allen Hamilton, and DLA Piper. She launched a boutique marketing consultancy in the late 2000s serving clients primarily in the professional services, IT, defense, logistics, and aerospace arenas. And, as an adjunct professor at Georgetown University, she designed and taught PR and communications graduate courses.
Kim holds a BA in English Language and Literature from the University of Virginia and an MS in Journalism from Columbia University. She lives in northern Virginia with her fabulous husband of almost 30 years, the youngest of their three sons, her 91-year-old father, and their Rottweiler puppy.
---
Scott Honiberg
Chair Grants Committee
Scott, an avid grants writer in consulting and federal contracting for several decades, now chairs SC's Grants Committee, following six years of volunteer work for the Center. He brings a diverse background in the healthcare field that includes hospital operations, strategic planning, and policy research with ICF and Abt Associates.
He founded Potomac Health Associates in 1992, which specializes in marketing, business development, and health care contracting at the federal level. Those interests led him to the SC Board in 2017, where he focuses on finding untapped funding resources for SC programs and activities.
Scott holds a B.A. in English from Hobart College in Geneva, NY, and a MBA from The Wharton Graduate School of the University of Pennsylvania. This New England native has lived in the Oakton, VA, area since 1990 with his wife, Robin. They have two adult children.
---
Michelle Kang
Board Secretary, Executive Committee, Chair Audit Committee, Co-Chair HR/IT Committee
Michelle, a strong promoter of science, technology, and engineering for children in grades K-12, has shared her more than 16 years of executive financial services and HR expertise with the SC Board since 2015. She discovered SC programs and services from her son when he began volunteering at the Center.
She is a current director at Stemtree, Vienna, VA, and was a former math instructor and manager responsible for all after school programs in the Vienna area while at Mathnasium, LLC, in Vienna and McLean, VA.
Michelle holds a B.S. in Finance from Syracuse University, Martin J. Whitman School of Management. Since moving to Northern Virginia in 2003, she has maintained a community presence in numerous volunteer roles in local PTAs, youth sports leagues, and orchestras. Her husband, Eliot, is one of the U.S. State Department's leading experts on nuclear affairs.
---
Anna McDonald
Social Media Committee, Development Committee
Anna, who joined the SC Board in 2020, is an experienced volunteer lending her skills to many worthy causes. In addition, she is a pro in the social media arena and a welcome addition to our Development Committee.
She is currently the Assistant Vice President Commercial Services Officer with United Bank in Vienna, VA. Anna joined the United Bank team in 2017 after moving from First Bank located in Huntsville, AL.
Her contributions toward improving the quality of life are widely recognized and reflect her years of service and dedication. Anna represented United Bank at the Washington Business Journal Corporate Philanthropy Awards for "Outstanding Community Volunteerism" in the large category for both 2018 & 2019. Anna also led the Community Reinvestment Representative program with the Northern Virginia Transportation Authority Board of Directors. She was nominated, through the Huntsville/Madison Chamber of Commerce, as "Young Professional of the Year" in both 2016 and 2017. Anna received the "Unsung Hero" award at the Alabama Young Professionals Summit in 2015.
In her spare time, Anna enjoys traveling, the great outdoors, wineries, yoga, playing the violin, meditation, camping, learning the ukulele, and spending quality time with family and friends.
---
Phil Pifer
Marketing Strategy Committee

Phil joined the board in early 2021 when SCNOVA was formed. As both a founder and the President of Shepherd's Center of Great Falls, Phil brings a proven commitment to improving the lives of aging seniors. Phil's first-hand experience with the challenges seniors face, as primary caregiver for his mom for the last 12 years of her life, influenced his involvement with a range of charitable organizations including Shepherd's Centers.
Phil grew up all over the U.S., but spent much of this time in Northern California, graduating from UC Berkeley in Computer Science. After receiving an MBA from Harvard, he joined McKinsey & Co. as a management consultant and eventually partner. He has held senior executive positions at PepsiCo/Frito-Lay, Goldman Sachs, Trex, and two startups. Phil brings a range and depth of general management, strategy, finance, and marketing experience to our team.
Phil comments, "I'm delighted to have the opportunity to join SCNOVA and to contribute to furthering their demonstrated success and enduring impact in improving the quality of life for our seniors."
---
Patti Vaughn
Executive Committee, Chair Nominating Committee, Co-Chair HR/IT Committee, Policy Committee
Patti is an original New Yorker turned "southerner" when she and her family moved to Northern Virginia in 1983. Fueled by the challenges that her elderly mother faced each day, Patti found answers at SC and became a dedicated Board member in 2010. She finds workable solutions with limited funding as a result of serving as Director of Finance for the Alliance for Haiti's Children since 2011, and is an energetic PTA Board member.
While striving to build an even stronger Shepherd's Center, she embodies her favorite quote, "Do not wish to be anything but what you are, and be that perfectly." As the current controller of VLP Financial Advisors in Vienna, VA, a firm she and her husband founded, she utilizes her shrewd business skills to get SC running at operational efficiency. Patti earned her Bachelor of Business Administration from Marymount University in Arlington, VA, and her Certified Financial Planner designation (now retired).
---
Jayne Young
Board Vice Chair, Executive Committee, Co-Chair Development Committee, Co-Chair Volunteer Committee, HR/IT Committee
Jayne gets the job done. As former SC Director of Operations and Events, her commitment to the Center remains strong. Upon joining the Board in June 2018, it was clear that her 15 years of caregiving of her mother fueled her support of SC's mission to provide vital services to seniors.
Whether it's better serving volunteers, or recruiting, retaining, and recognizing them, Jayne's past experiences and vast number of contacts meet the need. She demonstrated that as the co-chair of SC's First Annual Gala in 2018 and 2019's Garage Sale.
Jayne holds a B.S. in business administration from Virginia Tech, and a paralegal certificate from Georgetown University. She was a paralegal investigative researcher, legal administrator with a defense firm, and project manager for a healthcare PR firm.
She was the principal owner of Cottage Crafters for 24 years, which employed more than 90 local and nationally-known craftspeople. She currently sits on the Fairfax County Library Foundation Board and co-chairs the Development Committee.
Jayne and her husband live in Oakton, VA, where they raised three sons.
Board Founders
---
Julius Hankin
Founder
My wife and I were at the initial meeting of representatives from local churches to begin the mission of the Shepherd's Center. My responsibility has been to work with representatives from the congregations in the Oakton-Vienna area. What I enjoy most about the Shepherd's Center is wherever I go in Oakton-Vienna, I always meet someone from the Shepherd's Center. I am a native of Baltimore, MD, served in the United States Navy, and have a degree in Industrial Engineering from IIT in Chicago, IL. I worked in paper converting industries for 20 years, and was 23 years with the United States Government, starting with the Government Printing Office and retiring from the United States Treasury Financial Management Services.
---
Mary Ann Hankin
Founder
As a former member of the Board and the Health Council, the Shepherd's Center has been an important part of my life since its beginning. My younger years were spent in Kansas. My first degree was in Home Economics and Nursing, having attended Cottey College, Kansas State University and Kansas University Medical Center. In addition, I have a Master's in Public Administration from the University of Missouri in Kansas City and an Ed.D. in Adult Education from Virginia Tech. I started in obstetrics and gynecology, followed by surgical nursing, school nursing, teaching in both two-year and collegiate settings, public health nursing, various administrative positions at the American Nurses Association, and my last 18 years were spent at the national headquarters of the American Red Cross in Nursing and Health and Management Development and Training.
---
Barbara Tate
Founder
Like my husband, John, I have served on the Board since its inception. I was a member of the first Adventures in Learning Committee and have been active in other areas of the program.
---
John Tate
Founder
In 1996 Donna Grim, who was a member of the church I was pastoring at the time, came into my office with some materials she had received about starting a Shepherd's Center. I looked over the information and told her that it was just what we had been looking for. We discussed how to get started and set up a meeting with the clergy in the Oakton-Vienna-Dunn Loring area. Thirteen of them showed up, and as they say, "the rest is history." I have served on the Board since its inception, and it has been a great joy to see it grow to its present state.
---