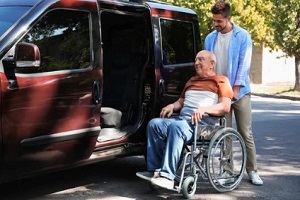 The senior population has grown dramatically over the past few decades as a result of our growing population. Unfortunately, as old age driving can become more and more hazardous as the years pass.
There are many reasons why a person might not feel confident driving a vehicle, but age is one of the most important. Growing older doesn't eliminate the need to travel; in fact, as the population increases, so also the demand for senior transportation.
Surrendering driving privileges can be a hard emotional transition, but in most places in the U.S., there are several solutions that can provide seniors with transportation, and family members with peace of mind. Learn more about how to give your senior some practical alternatives to driving in this short article.
Why Senior Transportation Is Growing?
The majority of people in this nation rely on cars on a daily basis. A lot of life's required activities—such as shopping, driving to and from work each day, meeting friends for drinks, and just about anything else outside the home—requires transportation.
However, that doesn't mean that these activities must stop as you become older. So as our senior population grows, and more and more of them choose or are forced to become non-drivers, the demand for senior transportation is growing. And more and more alternatives are coming available throughout the country.
Various Types of Personal Transportation
Home Assistant/Personal Driver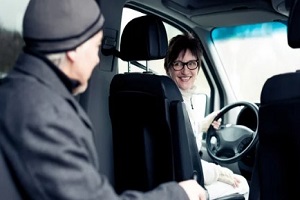 You can plan a regular schedule with a driving hourly helper to assist in running errands, or you can arrange a ride as needed for doctor's appointments or other occasions. Make sure to verify their license, driving record, and the car's insurance and inspection status.
People often form a bond with a regular caregiver, and they can learn about your loved one's routines and preferences. If necessary, you can start part-time and then add more time up to full-time assistance as it becomes necessary. With this option, however, it can be challenging to arrange a last-minute substitute if the driver is ill or on vacation.
Ride-Sharing and Taxis
There is almost always the option of phoning a taxi service, but if the elder has a smartphone, they can also use ride-sharing apps such as Uber and Lyft and get a car anywhere, anytime, at the tap of their finger.
You can call for a ride whenever it is needed, without fully committing to a regular timetable. With ride-sharing apps, you can see the car's exact location, the license plate number of the car, and the identity of the driver. Unfortunately, since a different driver will be used each time, quality may vary and no bond can be built.
Public Transportation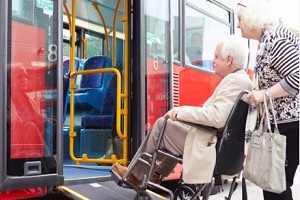 If you live in an area where public transportation is readily available, it can make for an excellent, cost-effective means of helping your elder to get around wherever he or she needs to go. Depending on the region, using the bus, tram, or metro may be the quickest and most practical way to get around.
But think about their ability to navigate and get to public transportation. The stairs to a railway station or the steps up onto the bus can be a significant challenge for an elderly person who uses a walker or has restricted mobility.
Friends, Family, or Volunteers
Often there are neighborhood groups that maintain a list of volunteers who agree to transport homebound seniors door-to-door for appointments and errands. Don't be hesitant to ask relatives or family friends who still safely drive to give you a ride occasionally if you can't find a senior ride program near you. They'll probably be delighted to assist, particularly if you buy them a coffee when you reach your location!
The best thing about this choice is that the rides are free and offer a social outlet in addition to transportation.
Free Volunteer Ride Services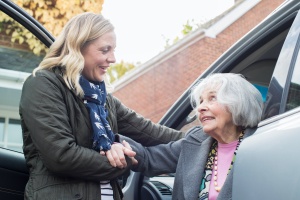 Finally, in many communities, there are not-for-profits that run ride services, which are often free or low-cost. Normally you do have to schedule a ride ahead of time, but they can be quite convenient and the drivers are screened and fully trained to serve seniors. Check online for senior ride services in your community.
Making Senior Transportation Plans
As is probably clear by now, It's important that you research options in your area to help you locate a mode of transportation that will safely convey your loved one to their destination. Usually, there are many organizations and options in most communities. The senior transportation options listed above can be your best option if you're seeking to keep your independence.
Even though you might no longer be entirely independent, many driving services provide services beyond simply transporting you from one place to another. Consider senior transportation to keep up your desired lifestyle.
If you have any questions or concerns regarding the best option for choosing the perfect method of transportation for the senior in your life, please reach out to our highly trained and professional staff at Shepherd's Center of Northern Virginia today for more details and information.