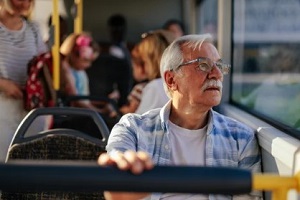 As people get older, they often begin to run into trouble with getting from place to place. Sometimes, this comes in the form of mobility issues; other times, they might not have the eyesight or even cognitive clarity they once did. No matter the reason, if your loved one has reached the stage where it is no longer safe for them to drive themselves, you may need to assist him or her with finding senior transportation services.
It's unreasonable to expect that you will always be available to drive a senior individual everywhere they want to go. Thus, one of the most important things you can do is to equip your family members with the options and information they need to travel safely. Here are some ideas for alternative transportation, as well as tips for how you can assist seniors make a successful journey.
Try Public Transit and Paratransit
The most common option when an older individual needs transportation is public transit. This includes buses or, depending on where you live, trains or trams. To use these vehicles, it is best that older individuals have decent balance and motor skills to be safe while boarding and riding.
However, those who qualify under the Americans with Disabilities Act can also utilize paratransit services, which run concurrently with public transit. These are more accessible for people with wheelchairs and other challenges. Rides must usually be scheduled at least a day in advance.
To help seniors prepare for their trip on public transit or paratransit, make sure they clearly understand where they are going. Review the information with them, and ask them to explain how they will go and come back. Set a plan for what to do if they get lost or miss their scheduled transit.
Consider Taxis with Vouchers
For elders who don't need regular trips out of the house, the convenience of a taxi may be worth the higher cost. Still, publicly-supported senior or disabled taxi vouchers may be available to older individuals, reducing the cost to something more feasible for regular use. You can explore the availability of such vouchers with your city or county government – start with their social services department.
Check whether your local taxi fleet is equipped with accessible vehicles appropriate for your loved one, and make sure that either you or the senior understand how to request an accessible vehicle when scheduling. Teach your senior how to identify authentic taxis if your city is large enough that scam services operate.
Teach Technology for Ride-Hailing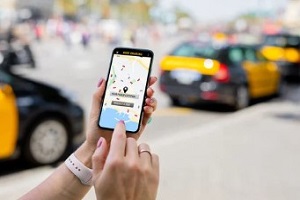 Ride-hailing services, such as Lyft and Uber, have taken transportation by storm. As an alternative to taxis, seniors can use these to great advantage at any time of the day or night. However, to hail a ride, a senior needs to understand how to use the technology—most commonly, an app on a phone or tablet.
To assist them with ride-hailing, it's helpful to begin by practicing how to use the technology to hail a ride. It may take a few sessions over a few days to get them comfortable. After training them, set aside a time or two when they can show you how they would attempt to call a ride, from locating the mobile device or computer to clicking on the app and scheduling a ride. This allows you to be assured they have the process down.
Be sure to post any usernames and passwords in a highly visible location so they can still use the service if the app updates or signs them out. Be patient, and remember to adjust devices for ease of use (like increasing the font size).
Senior Ride Services
In addition to senior programs of public transportation systems, an alternative is provided by many charities in cities and towns nationwide: senior ride services. These are usually point-to-point services where a car and driver will pick up a senior at their home, drive them to their destination (like a medical appointment) and then return them to home after they are done.
They provide more security than public transportation, and offer more assurance to your loved one. Some organizations, such as Shepherd Centers of America, offer these rides to seniors at no cost with no financial means requirements to qualify. Search for these options in your area.
Ensure Safe Transport If the Elder Should Not Drive
While the options described above are the primary means of transportation for many seniors across America, not all older folks will be willing. If you are faced with a loved one who is not willing to give up their driving privileges, even in the face of hazardous driving habits, you may be at a loss for what to do next.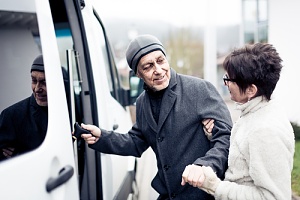 The best approach is to speak candidly with the senior. Explain your concern for their well-being, as well as those around them. You don't want them to accidentally get hurt or hurt someone else, especially when there are other options available. Offer to hold their keys for them for a few weeks while they try other services, with the promise that you'll meet afterward to discuss how it went.
If they are still unwilling, it is possible to report them to the DMV as an unsafe driver. This could result in the cancellation of their license, forcing their hand. Similarly, meeting with an attorney can be a powerful tool, to discuss what financial and personal impact an accident might have on them and their retirement savings.
Remember to be empathetic and kind; this is a stressful and often depressing development in a person's life especially after a lifetime of driving. Never steal an older person's keys, as it is usually quite offensive and draconian, and worse case it his constitutes vehicle theft under the law, Seek Community Resources from a Reputable Aging Organization.
If you need help learning more about your local senior transportation options, reach out to organizations that specialize in care for the aging population. The Shepherd's Center of Northern Virginia can assist older adults with meeting their transportation needs and aging in place. Contact us to learn more or to utilize SCNOVA's own senior transportation options.