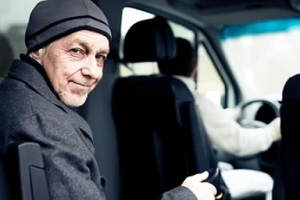 You might be surprised to learn that half of Americans aged 65 and older lack access to public transportation. If a senior is non-driving due to a short or long-term disability, that can cause challenges. Due to the birth of transportation options, over half of all non-drivers who are 65 and older spend each day at home.
However, it is important for seniors to maintain their mobility in order to attend medical appointments, maintain their social freedom with friends and family, lessen feelings of loneliness and isolation, and for many other reasons.
What Does Senior Transportation Cover?
Seniors who can no longer drive but must nevertheless get to doctor's appointments as well as other vital locations face a challenge. When friends or relatives can't help, affordability of paid options like taxis or Uber is a problem, and there are no public transportation choices, a senior transportation service can provide transportation to banks, food stores, pharmacies, and medical appointments.
Services offered can include:
Transportation to and from the grocery store, the doctor, the bank, and other important places
Transportation to medical visits that are not emergencies
When Should Someone Give Up Driving?
Visual, physical, or even mild mental impairment may prevent some seniors from continuing to drive.
Consider the following vision facts:
About 85% of the information we require to make safe driving judgments is provided by vision.
Driving at 60 requires ten times more light than driving at 19.
When recovering from glare, a 55-year-old requires eight times longer than a 16-year-old.
In comparison to younger drivers, older drivers will take much longer to react to the brake lights in cars ahead.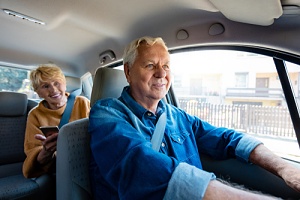 Obviously, short-term impairments such as recovery from surgery or a broken bone can prevent driving. Long-term impairments like partial paralysis or physical impairment also can be a factor. In many cases, mild dementia can lead to a loss of ability to find your way, or hitting the accelerator instead of the brake pedal.
The Beverly Foundation, in collaboration with the U.S. Department of Mobility and the AAA Foundation for Traffic Safety, undertook a study on the challenges elders experience when it comes to transportation. The following topics were used by SeniorDrivers.org to summarize their findings:
Because they are uninformed of or don't think they have other mobility options, seniors keep driving "as long as possible."
Due to functional challenges, seniors "restrict their driving or cease driving completely."
Many elderly persons are so incapacitated by the time they cease driving that they are incapable of using the majority of public and paratransit services.
For elderly individuals, transportation is the most crucial problem after health.
Thus, many elderly who should give up driving struggle with the decision, not wanting to lose or accept the loss of their personal freedom. Oftentimes, they wait too long to make the decision which can become a risk to themselves and others. In these cases, children and relatives are often the ones to proactively convince the senior that it is time to give us the keys.
Senior Transportation Options
When it comes to transportation for seniors, one of the most important things to keep in mind is the significance of doing the research to find out what options exist in your area that match both your needs and your budget constraints. Options range from commercial operators like taxis or Uber, public transportation (if available), county services (contact social services), or non-profit organizations like Shepherd's Center.
There typically is no particular eligibility for senior transportation. However, there may be certain restrictions or requirements such as in the case of how ambulatory or mentally functional a rider must be or concerning special equipment like motorized wheelchairs.
How To Apply
To apply for senior transportation, conduct a bit of research on which option is in your best interest and also fits your budget. Be sure to take into consideration your personal needs or the needs of the seniors in your life, particularly if there are medical concerns and transportation to and from medical appointments is something they will need to rely upon. Once you've gathered all the necessary information and have selected one or more options that will work for you, you may need to go through a process of applying with the organization involved.
Interested In Becoming A Senior Transportation Driver?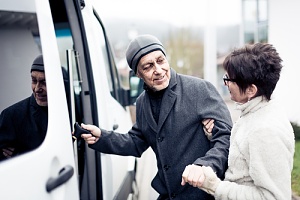 Senior transportation drivers pick up and transport senior citizens to and from appointments with doctors, food shopping, and other errands. You could work for a senior care home, an assisted living community, a transportation firm, or volunteer with a senior transportation non-profit. You can help passengers get in or out of the car when you arrive at their location.
Driving expertise, a driver's license, clean driving, criminal record, and the capacity to assist and communicate with older passengers are requirements for a senior transportation driver. To drive a minibus or large van, you may need a conventional driver's license, though certain states could also ask for a commercial driver's license (CDL) or chauffeur's license.
Additionally, you must pass a background investigation. Many employers choose candidates who have CPR and first-aid certifications, which are offered by the American Red Cross. Communicating with dispatch, medical professionals, and families requires good communication skills.
For the Shepherd's Center and many volunteer organizations, you will use your own car. You will need to go through a short application process and interview. We do require passing a background check and having a clean driving record.
Have Questions?
If you have any further questions either as a non-driving senior or a potential volunteer, please reach out to our friendly and experienced staff at the Shepherd's Center of Northern Virginia!