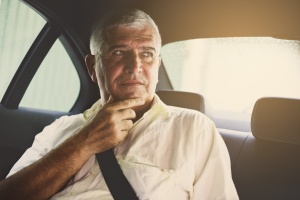 Do you have a loved one who may no longer be able to drive safely? Are you an older person who has made the decision to put away the keys? This can be an overwhelming adjustment. We often take for granted the fact that we can get into the driver's seat and take off without giving it much thought. Without keys, even routine outings are enormously difficult for a growing number of senior citizens.
As we age, health issues may make driving challenging, necessitating the use of alternative modes of transportation. This article will teach you how senior citizens can get around without a car, how to evaluate private senior transportation services, and what Factors need to be considered. Seniors who don't own a car can take advantage of local transit choices, and in this brief article, we will explore some of the options.
8 Senior Citizen Transportation Options
Using Public Transit
A great option for senior citizens who don't drive and are in good health is public transit, where it exists. It is one of the most cost-effective forms of transportation, and it gives non-drivers a sense of resiliency. They usually have set bus and train schedules, stops, and routes. Larger cities typically have highly developed public transportation networks that can take people practically anywhere.
Depending on your location, public transportation could be the easiest and fastest way to get around. However, the majority of people who utilize public transit must travel to and from bus stations or train stations, follow rigid itineraries, and stand outside for pickup. As a result, it's not always ideal for senior citizens, particularly for those who have poor mobility or don't follow a regular routine.
Every city bus should have a wheelchair lift and every train car should be accessible for wheelchairs. It is a good idea to find out if the stops and stations are secure and to confirm that they have an accessible lift and a working phone in case assistance is required.
Services For Paratransit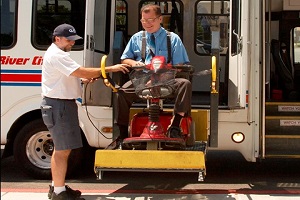 In accordance with the Americans with Disabilities Act, many senior individuals are entitled to transportation services (ADA). A city or town that offers its citizens access to public transportation must also offer auxiliary or paratransit services for those with impairments. These are designed to come to your home and take you to local public transit. Paratransit services must be accessible under the ADA within 3/4 miles of bus routes or rail stations at the precise day and time for no more than double the fixed route fare.
According to the ADA definition of disability, many elderly people are eligible for services.
People who can't easily access public transportation can travel thanks to paratransit services. The majority of paratransit vehicles are wheelchair and disability-accessible vans. Curb-to-curb service is a common feature of paratransit systems along their allocated complementary routes.
Keep in mind that curbside service and door-to-door service are two completely different things. Paratransit drivers don't enter elders' homes to assist them in boarding or disembarking the vehicle, unlike door-to-door services. Users of paratransit have to be able to navigate onboard the vehicle on their own or with the assistance of a family member or paid companion. Due to the strong demand for paratransit services, users should exercise tolerance and flexibility when organizing their outings.
Private Ride Services
Private businesses charge customers for these services, which are frequently referred to as "door-to-door" services. These taxi-like services for the elderly and the disabled are similar to elderly driving services.
Help is often provided to the rider in terms of getting to and from their house and car, getting in and out of the car, lugging bags, loading, and unloading wheelchairs, and carrying any purchases made while you were out. A motorized wheelchair can be transported by some vehicles (often for a fee). Some cars have even been developed for those with extreme medical requirements. Additionally, private ride service providers have more flexibility, frequently providing on-demand or same-day scheduling.
Private ride services are more flexible than public transit, but they cost more. The price of a ride can range from $20 to $40 or more depending on the distance. Seniors can typically only find private ride services in cities and large-city suburbs.
Ride-Hailing Services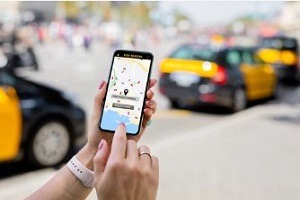 Ride-hailing services might be useful for senior citizens as well. If they do have a smartphone, elders can use ride-sharing apps to access a car anywhere. The transport can be ordered using a smartphone by family members if the elder doesn't feel comfortable using one.
Companies such as Uber and Lyft offer a variety of accessibility in terms of vehicles and services to address the needs of elders and persons with disabilities in addition to being practical.
Call the car anytime you need it; there's no need to adhere to a regular timetable. You can see the precise distance between the car and you on a ride-sharing app. The name and license plate number of the motorist are also displayed. However, since the driver may be different each time, the quality may differ.
Senior Living Community Transportation
In many senior living facilities, transportation can be scheduled through a concierge program. Some towns provide handicapped-accessible transportation so that residents can travel to appointments, go shopping, etc. In other places, the community itself will run a bus or van service for their residences. The majority of senior living facilities include the cost of transportation services in their monthly fees.
Remember that most communities do not provide one-on-one accompaniment during doctor's appointments or shopping trips when choosing a community and weighing your mobility choices. However, the driver will usually be on hand to help residents enter and exit a building, although they might not be present the entire time. This is at times covered by the monthly subscriptions, so there is typically no extra cost per ride. Where transportation hours and routes are planned in advance, one-on-one support might not be available while on the excursion.
Taxi Service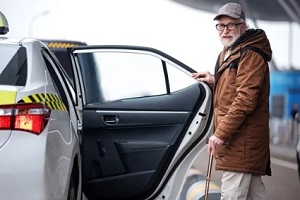 The primary distinction between a ride-hailing service and a taxi service is the use of applications to book journeys and the availability of carpooling. Taxis provide individualized service; they are not frequently shared rides. Seniors who occasionally need to travel and only moderate help but can't use public transportation should take a cab.
Rural dwellers without access to public transportation can benefit from taking a cab. The cost of taxis has increased, though, and many seniors live on fixed incomes. Additionally, based on the senior's location, availability can be restricted.
Transport For Non-Emergency Medical Care
The Non-Emergency Medical Transportation (NEMT) Program offers transportation to and from treatments, fitness programs, testing, and other health-related appointments for older persons who require help. These transportation services, which the NEMT is well known for, were included in the Medicaid program from the start in 1966. The NEMT provider is responsible for arranging transportation to and from appointments, selecting the best mode of transportation, and covering all associated costs.
Costs to and from medical appointments are free or small. However, provider networks can differ, which can lead to insufficient capacity resulting in overbooking, late pickups, and a lack of transportation service options.
Volunteer Transportation Programs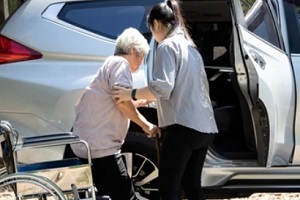 Volunteer transportation programs are most often free driving services where volunteers pick up the senior, drive to their appointment, help them door to door, and wait until the appointment is finished to return them home. Many neighborhood groups maintain a list of volunteer drivers who will transport senior citizens door-to-door for appointments and errands. Volunteer drivers typically utilize their own vehicles and are unable to transport motorized wheelchairs, and often even regular wheelchairs.
The availability of volunteer ride programs varies by area, but volunteer transportation services are free and provide both transportation and a social outlet.
Have Questions?
If you have any questions or concerns regarding how to choose the right private senior transportation service, please to our helpful and professional staff at Shepherd's Center of Northern Virginia. We'd be happy to address questions you may have about the best personal transportation options for you or your loved one. Reach out to our caring and knowledgeable team today.