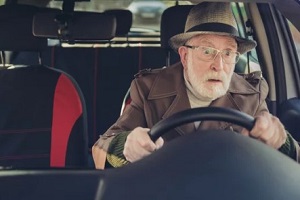 As individuals are living longer, there are more older drivers on the road. Their driving skills can vary from very good to poor, and this can cause concern, especially in families who are uncertain whether they should be driving at all.
Age-Related Driving: The Facts
Because seniors drive less, older drivers are involved in fewer car accidents than younger drivers. But when people get older—60 and above—crash rates per mile begin to rise to levels typical of younger drivers. This shows that impairments brought on by aging can be risk factors, sometimes significant ones. Consider the following figures:
Older drivers are much more likely than their younger counterparts to have caused a fatal collision, especially those over the age of 75.
For drivers aged 60 to 69, fatal two-vehicle crashes are still below the national average across all age groups, but the rate increases significantly with age. This accident rate is almost identical for drivers aged 70 to 79 to the national average, and it is approximately four times higher than the average for those aged 80 and older.
The good news is that trends over the past 20 years have decreased that risk, and can be attributed to both improved safety regulations and older drivers being physically and cognitively more fit than in the past.
Various Factors Affecting Driving Safety
Keep in mind that aging alone is not the main issue impacting driving safety, but rather, certain treatable medical issues that can arise with age and may negatively impact certain people's ability to drive.
Vision: Cataracts, macular degeneration, glaucoma, and diabetes are common eye conditions that affect a person's ability to drive.
Motor performance: An individual's speed, coordination, and reaction time all get slower as they age. Along with chronic illnesses including arthritis, sleep apnea, diabetes, seizures, irregular heartbeats, and neurological ailments like Parkinson's disease, many elderly Americans also suffer from cardiac rhythm issues.
Medication: The drugs used to treat these disorders frequently have negative effects on drivers as well.
Cognition: While driving, it's important to be aware and have a good cognitive function. Important cognitive functions for safe driving include memory, visual perception, spatial awareness, and decision-making. Becoming lost is a significant safety risk, especially when an elderly driver needs assistance or runs out of fuel in a dangerous or unpopulated location. Mild cognitive deterioration or dementia can afflict one in three older drivers, and medications used to treat it may also impair their ability to drive. Alzheimer's disease and other dementia disorders also have an effect on cognition and increase risk as the disease progresses.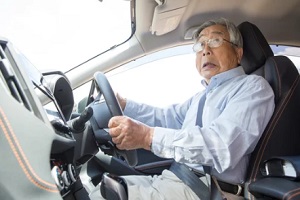 One of the main medical conditions linked to a higher risk of auto accidents is dementia. After the third year of progressive illness, the crash risk can equal that of a male teen. Men who have dementia are especially vulnerable. Patients with very moderate to mild dementia require ongoing care and regular driving competency evaluations every six months.
For up to a year or longer, people with moderate dementia may be able to drive safely – but every person is unique and thus the need for driving competency testing. Also, recognize that when a person is diagnosed with dementia, the issue is always "when," not "if", they should stop driving.
Testing Driving Skills
Although the American Medical Association provides recommendations for doctors on the best ways to evaluate and monitor the older driver, recommendations and office-based tests do not accurately predict crash risk.
These might serve as "red flags," but issues discovered during such office screening exams may not be enough to evaluate whether a person should stop driving altogether. It's important for doctors to identify patients with early dementia and offer the proper advice on driving limits when necessary because cognitively-impaired senior drivers are often not aware of abut their driving and related functional limitations.
Patients may not fully record or relate their driving issues, therefore you or other friends and/or family members should drive with a loved one to develop your own base of observations.
Physicians can also employ performance-based testing and other specialized evaluations to aid in decision-making. An official road test might be advised, but they may be expensive, and some families may not be able to afford it.
Here are some further sources:
Occupational therapists with training in driving rehabilitation and certain driving school experts with expertise working with older drivers can assess the danger of driving and offer suggestions for enhancing driver safety. You might need a prescription from your doctor to visit an occupational therapist. A driving evaluation program is available through the Lifespan Occupational Therapy program (please link directly to the website).
Defensive driving classes offered by AAA Mature Operator (please link to website) are created to address the knowledge requirements of senior drivers over the age of 55. Drivers who finish the driver education and improvement program successfully could also qualify for lower insurance premiums.
An interactive online tool for course participants, the AARP Driver Safety Driving Resource Center offers resources and activities like driving simulators, state-specific traffic laws, and cutting-edge automotive technology.
The American Society on Aging produced the educational program CarFit (please add link). In order to promote driving safety, it can be useful for older drivers to assess how well they now fit their own vehicles. An expert in driving rehabilitation can offer similar services.
The Alzheimer's Association places a strong emphasis on driving competence when deciding when and whether a person should stop driving, rather than just diagnosis. For partners and families, the association provides useful information.
Contact Us Today!
If you or a loved one are struggling with age-related driving issues, please don't hesitate to reach out to our friendly and helpful team of professionals at Shepherd's Center of Northern Virginia for details and options that may be available to assist you.