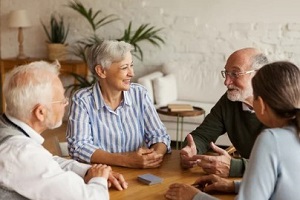 We are all aware of how much seniors in our communities have experienced. They are frequently sage, articulate people with a wealth of knowledge to impart. It is always a breath of fresh air when they make us laugh as we stroll around the mall or listen to them in church on a Sunday morning.
Seniors often find it difficult to start or keep a conversation going, however. If you want your visit with an elderly friend or relative to go smoothly, end in laughter, and perhaps even make his or her day, this list of 12 subjects might be just what you need!
Before The Meet Up
Brush up on the fundamentals of how to keep an older person involved in conversation before you choose a topic. Important components are remembering their preferred topics of conversation as well as how to gently steer the conversation so they stay engaged.
Find a topic that interests you, too. If they get restless, avoid talking in circles, but also avoid switching topics too frequently. Have fun with the conversation by sharing personal anecdotes or tales from your own past that relate to them.
With elderly individuals, concentrate on one issue at a time and stay focused on that before moving on to other subjects too quickly. Choose open-ended inquiries and steer clear of challenging or complex concepts, vocabulary or grammar.
Another important suggestion is to choose the appropriate setting for your talk . It shouldn't be in a noisy place where there are conflicting conversations, or sound from TVs, radios, or stereos. Keep in mind that if a decision needs to be made, you must learn to tolerate differences of opinion and compromise.
The majority of elderly people have a wide range of tastes and will be interested in a variety of topics. Your conversations may bring up various memories, perhaps from a simpler time, which can be pleasant to reminisce on, especially if it has been some time since someone inquired about such pleasant memories.
Topic Conversation Prompts
Having covered some of the basics, let's move on to a list of possible subjects:
Inquire about their prior activities, positive memories and other details. Learning about an elder's life and experience is almost always a plus!
"What was it like to be a child before TV became popular?"
"Which childhood memories come to mind when you're older and thinking back on them?"
Talk about their life's accomplishments – what they did, what was their highest point? What were some achievements that enriched their life?
Ask them what their favorite items are and what their favorite pastimes are.
What is their favorite season, and why?
What comes to mind when you consider today's date?
What was it like being a child when they were young, and how did their life change?
Inquire about regrets or if there is anything they wish they had done differently in life.
What activities do they enjoy?
What would they like to see if they had access to a time machine?
Who would they want to meet if they could travel across time and why?
How has life changed for them since they were younger?
What do they miss about the past that doesn't exist now?
Inquire about their first pet..
What was it like to grow up in a certain time period, and what were some of the difficulties and advantages they came across?
What types of games did they play with their friends? Which of their toys was the best?
What superpower, if any, would they want to have, and why? What historical superhero or heroine is their favorite? It's always intriguing to think of abilities and talents that go beyond what is now recognized to be possible.
Who are some of the modern-day heroes who motivate them to help others each day?
What is the best career advice they can give to people who are just getting started?
Over the years, particularly in the last ten or so years, the environment has changed in lots of ways.
What advice would they offer for life today, based on their experience?
What do they like about the world today? What do they not like?
What did you do with your first earnings and what was your role at your first job?
Obviously, things were different then, and there were fewer options than there are now. What is the most important lesson they took away from their adolescence?
In some instances, people might relive their heyday, while others might just be happy to recount childhood memories. In either case, it's likely to teach you something useful that will strengthen your conversations, and your relationship.
Shepherd's Center of Northern Virginia
Our goal at Shepherd's Center of Northern Virginia is to provide older persons in our communities with significant opportunities for service, lifelong learning, social connection, personal well-being, and independent living. For more information on joining our volunteer team in helping seniors, get in touch with our friendly and helpful staff right away!