Thanks to the many aging in place services available to seniors, more people are staying in their homes as they age. However, it is important to ensure that your loved one's home is set up properly to avoid accidents. Using a aging in place checklist can help.
Aging In Place Checklist
Here is a look at how to address some common safety issues throughout the home:
Floors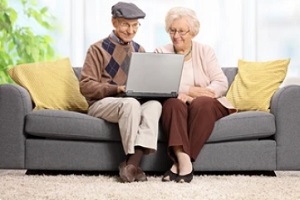 One big problem for many elderly people is slipping and falling, so it is important to ensure that their floors are kept clear. Look around the home for rugs that are not secured, are torn, or have curled edges as all of these can be a safety hazard. Consider securing rugs to the ground or removing them entirely. Pay particular attention to the transitions from room to room and make sure that they are clear of obstacles.
It is also important to keep the home uncluttered. Seniors who have to maneuver around objects have a greater likelihood of losing their balance, so look around the home and find ways to reduce piles and better organize belongings so that there are clear pathways throughout the home.
In The Kitchen
It is important to ensure that the kitchen is well-lit to avoid accidents. Because cooking involves using sharp knives and other objects and working with high temperatures, it is essential to make sure that the kitchen has proper lighting over the stove and countertops. It is also a good idea to install automatic night lights or motion detection lights that will come on at night if your loved one needs to head to the kitchen for something to eat or drink.
Ensure the items that your elderly loved ones use often are easy to reach. Keeping their most frequently used items on lower shelves avoids the need for ladders and step stools. Place a non-skid, water-absorbent mat in front of the kitchen sink to help reduce falls.
In Living Areas
Ensure that walkways are clear of electrical cords, furniture and throw rugs. If any carpeting is torn or frayed, this can pose a tripping hazard so have it repaired or removed right away.
If the home has any sliding glass doors or picture windows, place decals on them so that older people can easily identify them as being glass and determine when they are open or closed. It is also a good idea to remove low coffee tables as they can be difficult to see and easy to trip over.
In The Bedroom
Make sure your elderly loved one's bed has the right height for them to place their feet firmly on the floor when they are sitting on the edge of the mattress. Throw rugs and electrical cords should not be placed close to the bed. You may also consider installing portable guardrails between their box spring and mattress.
Install an automatic night light or motion detection light on the path from the bed to the bathroom to help your elderly loved one see better when they are going to the bathroom at night. Make sure there is a small table lamp on each side of their bed that they can reach easily.
If you are living with an elderly loved one, consider using a monitoring device similar to a baby monitor so you can be alerted to any problems that arise during the night.
In The Bathroom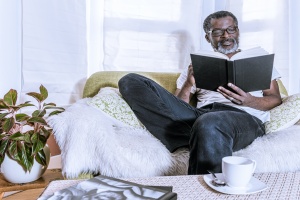 The bathroom is one of the most dangerous places for elderly people, but there are lots of ways that you can make it safer. Adhesive strips and mats can help ensure that tubs and showers are nonslip. It is also a good idea to place them in front of the sink, toilet and bathtub to provide additional stability.
Remove any loose rugs from the bathroom that could cause an elderly person to trip. Some people choose to install wall-to-wall bathroom carpeting to eliminate the possibility of slipping on wet floors.
Grab bars can be installed inside a shower or bathtub and next to the toilet to reduce falls, while a raised toilet seat with hand rails can make it easier to sit down and get up. Some older adults can benefit from a plastic shower stool and a handheld shower wand to facilitate bathing. It is also a good idea to install an automatic night light in the bathroom to ensure your loved one is never in total darkness when using their bathroom.
Reach Out To Shepherd's Center Of Northern Virginia For More On Aging In Place Checklist
Setting up a safe home is only one part of ensuring your elderly loved one prospers as they age in place. Shepherd's Center of Northern Virginia offers a range of services aimed at helping our area's seniors live more independently, with everything from friendly caller programs and senior transportation services to a caregivers support group and help with minor home repairs.