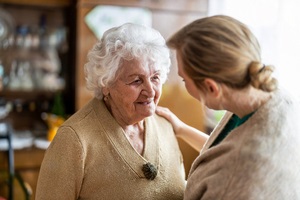 Many seniors and those with disabilities in our community live alone and value their independence. Unfortunately, some people are lonely, away from their family, or in need of a sympathetic ally. Simple acts of kindness can go a long way toward making your neighbor feel included in the community. Isolation is common among elderly people who have lost their mobility, don't have access to transportation, or live alone or far away from relatives. The ramifications are enormous.
A Friendly Visitor Program can help people avoid and overcome the physical and mental health concerns that come with isolation. This program meets the fundamental, social, emotional, and environmental requirements of lonely older and disabled persons.
What Is A Friendly Visitor Program?
At Shepherd's Care of Northern Virginia, our Friendly Visitor Program is dedicated to assisting our residents in staying in their homes as long as possible. We accomplish this by pairing local volunteers with residents who require assistance. You can make a difference in the life of an older adult in our community by joining our team and making regular visits or phone calls.
Alienation, loneliness, and isolation are all too common side effects of aging, and they can all contribute to serious melancholy. A significant bond can be established by reaching out to a vulnerable older person in our community. Knowing that someone else cares about them can make a huge difference in a person's view on life.
You have the opportunity to form a constructive relationship through the Friendly Visitor Program. You may feel rewarded as a Friendly Visitor if you make a buddy who needs and appreciates your company. Your visits will also assist a senior in living a life as a respected, appreciated, and cared for member of our community.
The Friendly Visitor Program pairs a volunteer with an elderly person who is lonely. You will meet (or talk on the phone) at least once a month for a minimum of one hour per visit, and you will call during the weeks when you do not have a meeting scheduled. You'll share life's experiences – a game of cards, a television show, or just a few special moments together. When forming a friendship with an older acquaintance, the volunteer assumes a significant amount of responsibility. For many of these ailing senior citizens, their visitor is their only human contact during the week.
Make sure you have some background knowledge and a rough understanding of what your commitment entails when you've been allocated to a friend. A Volunteer Coordinator will make all of the necessary arrangements and will join you on your first visit. The Friendly Visitor and the friend being visited will confirm the date, time, and location of all visits, as well as the length of the visit, if possible.
What Is Involved With A Friendly Visitor Program
The activities that a Friendly Visitor and companion can engage in are virtually limitless. They could include things like watching a favorite TV show, looking through photo albums and sharing recollections, taking part in a favorite hobby, playing cards, assisting with shopping, and so on. The options truly are limitless!
Some important tips to remember when you are meeting your new friend are: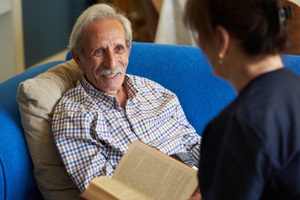 Be a good listener. Empathy, care, and acceptance are really important.
Make good use of your time with your friend, but do not overstay your welcome. It is preferable to leave before the person begins to show signs of exhaustion.
It's perfectly fine to be a little apprehensive or nervous about going the first few times. It's also okay to be honest with your friend about this because it can help you and your friend relax.
Remember the reason for your visit — we want to foster friendships, but please don't burden your buddy with your own sentiments and concerns.
Remember that there are no "perfect words" to say; simply being present and showing genuine interest in your friend will suffice.
Encourage your acquaintance to share their thoughts and feelings, even about more difficult issues.
Take pleasure in your friendship and the time you spend with your pal!
Visitors brighten people's lives and provide a critical link to the community's resources. Being a welcoming visitor is both gratifying and challenging at times. There is nothing wrong with feeling a bit of stress that may come with volunteering at times. Please keep in mind that our staff at Shepherd's Center of Northern Virginia are part of your team and are always here to support you.
Work With Shepherd's Center Of Northern Virginia
If you would like to take the steps to make a difference in the lives of an elderly individual in your community, please contact our staff at Shepherd's Center of Northern Virginia today. We are happy to answer any questions or concerns that you may have about the Friendly Visitor Program and get you started in creating a positive change in the life of a senior and building a warm relationship with lasting memories.