At Shepherd's Center of Northern Virginia, the Friendly Visitor Program fosters social interaction and alleviates loneliness and isolation in lonely or homebound senior persons. The Friendly Visitor Program is based on extensive research that has demonstrated that depression and loneliness are major issues that lead to decreased quality of life among the elderly, and that socialization has significant health advantages.
What Does A Friendly Visitor Do?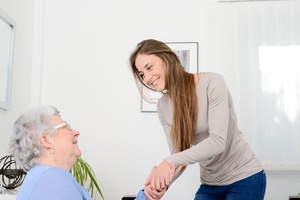 The most frequent activities enjoyed are simply talking and telling stories. isitors and seniors can also enjoy many different activities together such as listening to music, playing cards, and walking outside. The seniors develop very close friendships with their visitors, and they report great enjoyment from the regular visits (and/or phone calls), which they look forward to each week. Having a caring visitor helps seniors feel less isolated and more hopeful about their lives.
Visitors' accounts of the things they do with their seniors are nearly identical to the seniors' accounts. Visitors report that the experience of being a visitor had changed them – that they felt very satisfied and happy about bringing a little joy to a senior's life; that they had made new, interesting friendships; and that they had gained a new appreciation for the aging process, the needs of the elderly who are disabled and isolated, and the importance of good health.
Who Does The Friendly Visitor Program Impact?
A recent study on loneliness, conducted by researchers at the University of California San Diego School of Medicine (Lee et al., 2018) and published in the December 2018 issue of International Psychogeriatrics, included 340 adults aged 27 to 101 (with a mean age of 62 years) who were asked about feelings of isolation, which were measured using a variety of standardized surveys, including the well-known "Scale of Loneliness." The participants in the study had neither serious physical or psychological disorders, nor had they been diagnosed with dementia; they lived in the community rather than in nursing facilities; and they did not require extensive support with everyday chores.
The researchers discovered that loneliness was more common than they had anticipated. In fact, three out of four of the individuals in the survey said they were lonely in a moderate to severe way. Although moderate to severe loneliness continued throughout adulthood, it was most intense in three life stages: late twenties, mid-fifties, and late eighties. Loneliness was linked to poor mental health and was found to be inversely connected to pleasant psychological states. Loneliness, even moderately severe loneliness, was linked to poor mental and physical health; this raises some very serious concerns for society, particularly elderly citizens.
LGBT Community
Many older persons are at risk of social isolation as they approach retirement age; as they get closer to retirement, they may become alienated from their larger communities, as well as friends and family. However, LGBT older people are twice as likely to live alone, twice as likely to be unmarried, and three to four times less likely to have children—and many are separated from their original family. No one feels the impact of loneliness more than LGBT seniors who are confined to their homes.
Friendly visiting programs have been shown to reduce loneliness and help communities recover over generations. SCNOVA's Friendly Visitor program can assist match community volunteers with LGBT older individuals ("Friends at Home") to develop mutually satisfying relationships and promote community.
What Impact Can I Make Becoming A Volunteer?
The impact of having a visitor is undeniably positive. Having a nice visitor has several benefits, according to many seniors. Developing close connections with their visitors and experiencing great delight, joy, and happiness from their weekly visits are just a few examples.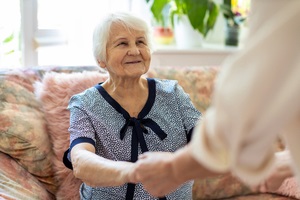 Many seniors say that the primary activity they enjoyed with their visitor was conversing. Eating a snack or dinner together, watching TV, walking outside, playing cards, looking at a garden or art exhibit, playing board games, and going shopping were also among the top activities they enjoyed with their friendly visitor as well.
The elderly truly do value the regularity of the visits, which they anxiously anticipate and miss when their visitor is unable to pay them a visit. Although some visitors aid the elderly with mundane tasks such as garbage collection, unpacking and organizing, and shopping as well, the most valued activity shared by the seniors and their guests was simply just taking the time to talk to them.
How Can I Become a Friendly Visitor Volunteer?
Friendly Visitors have expressed that being a visitor and assisting others gives them very positive and rewarding feelings. Giving back to others who are unable to perform certain duties for themselves, as well as sharing your time with people who are eager to chat with you and tell you their experiences, simply makes you feel good.
Learn More With The Shepherd's Center Of Northern Virginia
In the research study above, the visitors' understanding and sensitivity to concerns associated with aging increased as they became more frequent visitors. Overall, volunteering as a friendly visitor will leave you with a genuine sense of connection while also allowing you to create a satisfying friendship with someone new. If you are ready to take the next steps to becoming a Friendly Visitor Volunteer, please contact our friendly and helpful staff at Shepherd's Center of Northern Virginia for further details.