Aging may be an inevitable part of life, but the way each person experiences it is deeply personal, and their needs are unique. Options for senior care in Northern Virginia are available in a broad range of formats, from light social support for more independent seniors to round-the-clock care for those with memory and health issues.
With 70 percent of Northern Virginians aged 55 and older opting to grow older right here in the region, there are plenty of good options for senior care. Outlined below is a closer look at some of the best care available for your elderly loved one.
Aging In Place With Community Support
Many seniors express a strong desire to age in place, which means remaining in their own home for as long as possible. As age-related issues begin to set in, they may opt to seek outside assistance with activities of daily living. However, one aspect of life that many seniors who are aging need help with regardless of their age or health status is community support.
For people who need light assistance with household tasks and social support, options like Shepherd's Care of Northern Virginia can prove invaluable. This volunteer-based, nonprofit organization is devoted to supporting and promoting independent living for mature adults who are aged 50 and above with home visits, transportation assistance, volunteer opportunities, cultural enrichment and lifelong learning. They offer a range of courses and events that give people that all-important sense of community as they age and lend structure and purpose to their days.
In-Home Care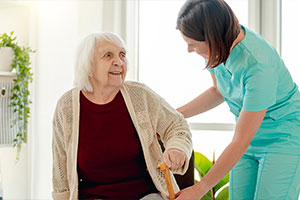 For seniors who could use extra help around the house or who are recovering from a hospital stay or illness and need someone to check in on them regularly, in-home care is a good option that provides trained caregivers to administer all the services that elderly people need. It allows them to remain in their home in familiar surroundings while receiving necessary help.
In-home care might include companion care and support with errands, light housekeeping and meal preparation. It can also offer help with personal care tasks such as grooming, bathing and dressing. In addition, it can be used as a form of respite care while an elderly person's primary caregiver is attending to urgent obligations or spending more time with family or work.
Adult Daycare
Adult daycare centers serve as a home away from home for seniors in Northern Virginia who need them. Adults can be dropped off at these daycare centers to spend the day; many of them also offer transportation to and from the facility. Seniors can spend the day engaging in interesting activities under the supervision of trained professionals with other people their age and then return to their home for the evening.
Facilities like Agape Adult Day and Home Care in Alexandria offer activities that range from cooking demonstrations and exercise classes to rehabilitation programs and community service. Prince William Adult Day Health Care offers group-based activities such as pet visits, holiday parties and music therapy as well as personal care for individuals.
Adult daycare is a great option for adults who cannot stay at home on their own throughout the day, such as those who need supervision while family caregivers are working.
Assisted Living Communities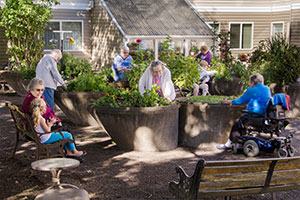 Assisted living communities, which are also sometimes referred to as personal care homes or assisted care communities, allow residents to live in private rooms, private apartments or in rooms shared with a roommate and receive help carrying out their activities of daily living. Most of these communities offer recreational programs, transportation services, housekeeping and laundry services, and communal dining. They are available in a broad range of prices ranging from modest apartments to extravagant resort-style units.
This is a good solution for an elderly person who is no longer able to live in their home safely yet is not yet at the point where they require a high level of medical care. It can also be a convenient option for people who are no longer able to drive and those who need more personal care services such as help with personal hygiene, medication management and incontinence issues. They also offer a range of social opportunities that allow people to bond with others and enjoy the many benefits of social connection.
Memory Care Communities
For elderly people who have memory problems or have been diagnosed with dementia and those who need specialized assisted living as their care needs increase, a dementia care or memory care community is a good solution. It allows residents to live in either private or semi-private apartments that have structured activities and are fully secured to prevent people from wandering off. They also offer engaging activities and personalized routines that take into account the cognitive and social challenges encountered by people with memory issues.
The Fairfax area has dozens of memory care facilities that offer full-time residential senior care, some with customized services tailored to individuals.
Reach Out To SCNOVA For Senior Care In Northern Virginia
If you are looking for senior care support in the Northern Virginia area, reach out to Shepherd's Center of Northern Virginia to learn more about the services we offer. As an interfaith, volunteer-based non-profit, we offer services such as medical appointment transportation, food delivery, friendly visitors, support groups, companion shopping, and enrichment opportunities that stimulate lifelong learning.