Food pick-up and delivery has always been intended as a highly convenient service, but it has become increasingly popular since the COVID-19 pandemic began. However, it's not simply companies such as Grubhub, DoorDash®, Postmates or Seamless that offer this service. Volunteers for nonprofits can also help seniors with food pickup and delivery. Older adults in particular can greatly benefit from this service, especially those who do not drive or have limited mobility. Fortunately, the Shepherd's Center of Northern Virginia (SCNOVA) provides food pickup and delivery services to older adults. Here is a close look at this program.
Food pickup and delivery
As part of this service, volunteers deliver food to clients who cannot go grocery shopping on their own. They can also pick up prepaid online food orders and bring them to an older adult's front door in a contactless way.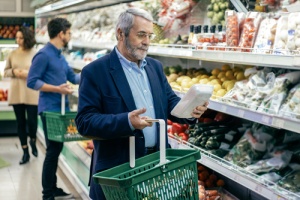 Whether the food being picked up and delivered is essential groceries such as eggs and milk or simply a quick fast-food run for dinner, this service can make life immensely easier for seniors. Not only can it help older adults who don't have a car, it can also help ensure they receive adequate nutrition. According to Senior-Meals.org, 1 out of 6 seniors faces the danger of hunger and many simply don't know about all of the food assistance programs that are available to them.
Our volunteers are always mindful to learn about any dietary restrictions and allergies and ask that clients communicate any special accommodations in advance of grocery shopping. For example, if you are gluten-free or a vegan, be sure to notify your volunteer as soon as possible.
Food pickup and delivery services can also serve as an excellent option for older adults who are either unable to cook or simply prefer not to.
Get food pickup and delivery volunteer services with SCNOVA today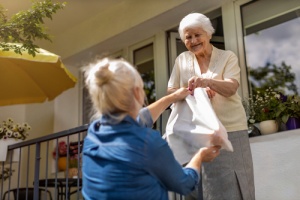 Reach out to the Shepherd's Center to learn more about our food pickup and delivery service. We are a nonprofit organization that has been dedicated to improving the quality of life of adults in Northern Virginia ages 50 and older since 1998. We strive to ensure that our seniors are never lonely and that their physical and mental health remains strong. Our more than 250 volunteers are extensively vetted and trained to care for older adults who are in need of company and basic services and can assist our clients according to their schedules. In some cases, volunteers end up forming meaningful, long-lasting relationships with our clients.
Call SCNOVA today at (703) 260-9568 or visit us online for more information about our food pickup and delivery service.