For some older adults, senior putting a delicious meal on the table every day may prove difficult. A senior may have mobility challenges or other health issues that make going to the grocery store or spending time in the kitchen difficult. As a result, meal delivery services have grown in popularity among seniors who require assistance with food.
Shepherd's Center of Northern Virginia currently offers grocery pickup for orders placed with that grocery, and we offer transportation to and from grocery stores. We may at times offer prepared meals – but check our website for our current service offering.
But there are prepared meal services. Meals on Wheels, which delivers freshly prepared meals on a regular basis, is one of the most popular solutions. They merely need to be unwrapped, heated (if needed) and enjoyed. It doesn't get any more straightforward than that! However, there are more advantages to using a meal delivery service for seniors.
Healthy and Easy Meals Served to Seniors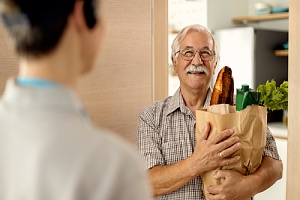 Hunger is an unfortunate reality in many parts of the world, including the United States. Acc
ording to the American Academy of Family Physicians' research, there are around 3.7 million malnourished seniors in the United States.
The truth is that far too many elders go hungry. It's mainly because their mobility limitations make it difficult for them to prepare healthy homemade meals. As a result, individuals go hungry and their bodies do not get the nutrients they require to function properly. Rather than leaving them to fend for themselves in the kitchen, a food delivery service such as Meals on Wheels can make a significant impact.
Meals on Wheels provides hot, freshly prepared meals that are ready to consume. This eliminates the stress of having to shop for goods, prepare meals, and cook. Seniors can focus on enjoying their cuisine rather than spending time in the kitchen.
Not only that, but these meals are freshly prepared in a professional kitchen and brought to their home. They are =more delectable than some of the frozen dinners found in the supermarket, which are usually always high in sodium and preservatives.
Meals on Wheels, in certain geographies, applies a financial needs-test for their service.  But there are other services available on line for a fee – delivering meal kits which can require minimal preparation.  Some of these services are Home Chef, Green Chef, Hello Fresh, Blue Apron, Snap Kitchen, Fresh and Easy, and Sunbasket.  A few offer fresh meals ready to cook – Tovala is an example, and provides an engineered countertop cooker that perfectly cooks each meal by scanning the meal card that comes with it.
Eliminates the Need to Visit a Grocery Store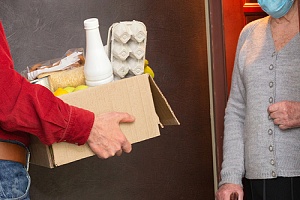 There's no reason to go food shopping every week when you get pre-made meals delivered right to your house. This relieves a great deal of tension from the elders in your life. They won't have to drive themselves or rely on someone else to transport them to the grocery store. They also won't have to rely on public transportation to get there.
Food shopping can be a significant inconvenience for our senior citizens. They must first prepare and compose a grocery list, then travel to the store, wander around while pushing the shopping cart, and return home to put everything away. For elders with mobility difficulties or other physical limitations, the act of grocery shopping and all that goes into it can be taxing.
Provides Direct Contact to Lonely Seniors
Another advantage, depending on the service, is that when deliveries are made, seniors get face-to-face contact with the delivery person. Many seniors, particularly those who live alone, may not always have this kind of interaction with others on a regular basis. They may converse on the phone with friends and family, but they may not be able to see them regularly.
According to research conducted by Brown University, seniors profited from the contact they received when Meals on Wheels deliveries occurred on a daily basis. In fact, the study found that seniors who received food delivery had fewer falls and were less likely to be hospitalised. If you have a senior in your life who lives alone, they may value and anticipate these daily visits.
It's Even Appropriate for Those on a Tight Budget
Those seniors on a restricted budget can benefit from using a prepared meal delivery service. Rather than worrying about fluctuating grocery costs, individuals can sign up for Meals on Wheels and pay on a monthly basis. They'll always know how much their meals will cost, which will help them stay on budget.
Furthermore, the cost compared to the quality of meals is excellent. As compared to the cost of frozen dinners from the grocery store, employing a meal delivery service can save money. Even the elderly want to have a little money in their pockets!
Consider Volunteering for a Senior Food Delivery Program
Home-delivered meals may seem insignificant, yet they can be quite beneficial to elderly people who live alone. Meals delivered to the doorsteps of elderly people bring nutrition and comfort to a vulnerable group. According to one study, they're also a cost-effective solution to keep elderly folks in their own homes longer.
Meal services can help elderly individuals stay in their own home as they age, and senior food delivery programs have a "more than a meal" concept, which can help them feel less lonely and safer. The "more than a meal" ethos requires volunteers to not only greet and get to know meal recipients, but also to pay attention to their well-being as well as the state of their home and community. If you have any questions regarding how to participate in a senior food delivery initiative, please reach out of our helpful staff at Shepherd's Center of Northern Virginia for more information and further details.