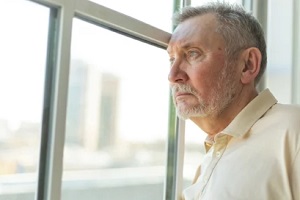 The population of adults over the age of 65 continues to increase over time, and between 2010 and 2020, this bracket saw its largest gain since the 1800s. As more and more people reach their later years, the social and workplace connections that they have established throughout their lives become more difficult to maintain.
With this comes an increase in loneliness and feelings of isolation. No one wants to feel alone, but this emotional turmoil can come with more than just a sense of discomfort and sadness.
Here is an overview of the wide-reaching effects that being lonely can have on an aging adult's experience in life, including an exploration of the "silent epidemic" of elderly loneliness and its impact on mental health and overall health outcomes.
The Statistics on Elderly Loneliness
As a result of the population of older folks increasing so substantially over time—especially in the last ten years—it comes as no surprise that rates of loneliness and personal struggle are increasing at the same time. This gradual separation from friends, family, and peers begins as early as a person's 40s.
The National Academies of Sciences, Engineering, and Medicine (NASEM) has found that by age 45, as many as one third of all adults are already beginning to feel lonely. By the time they reach age 65, a full quarter meet the criteria for total social isolation.
Certain populations are at a greater risk than others; immigrants are especially susceptible, because they have often lost social ties during their move to a new place. Similarly, those in underrepresented groups (such as the LGBTQIA+ community) experience more difficulty in securing supportive and long-lasting relationships.
As people age, the rate of social isolation and feeling alone only continues to increase as friends and loved ones pass away or become unable to visit and health conditions impact a person's ability to go out and socialize on their own.
Health Impacts of Being Lonely
Being lonely is an uncomfortable emotion, but it can have important effects on the body and mind beyond just discomfort. Those who are socially isolated are at an increased risk of multiple health conditions and effects, including heart disease (29%), stroke (32%), hospitalization (68%), and overall risk of death (400%). That's right—people in certain categories are as much as four times as likely to pass away if they do not have fulfilling social connections.
Mental health is an even less attended to area in which the effects of loneliness can emerge. Dementia is 50% more likely in those without robust social connections, and loneliness is one of the leading drivers behind anxiety, depression, and suicidal ideation in the older population.
These each have their own impact, creating a chain reaction: aging adults with depression experienced increased mortality rates from all causes, anxiety is correlated with a faster loss in physical capabilities in old age, and more.
Loneliness, therefore, has a wide-reaching effect on the total health outcomes, quality of life, and longevity of older individuals, with mental health decline serving as the impetus behind physical challenges and eventually death.
How to Reduce Loneliness in the Older Population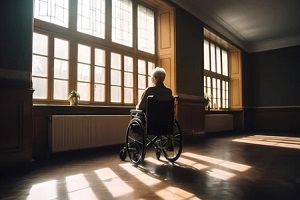 If someone you love is showing signs of loneliness as they age, there are many options to help them maintain a fulfilling life. With the increase in accessibility granted by the internet, older folks are more able than ever to stay in touch—they just may need some help or education on how to do so.
Encourage them to reach out to friends, or if they no longer have living friends, to make new ones. Internet message boards, live streaming content, and online community meet-ups are all interesting places where elderly individuals can meet new faces and form lasting bonds without even leaving their home.
For those who are able to travel either independently or with help, community events are another useful option. These can be centered around a holiday, an event, a hobby, or something else. Seeing people face to face is one of the quickest cures for loneliness and has demonstrated almost immediate mental health improvement in the older population.
Learn About Local Resources from Reputable Nonprofits
When someone you love is facing overwhelming fears of loneliness and isolation, it can be difficult to understand what to do next. The Shepherd's Center of Northern Virginia can help you to identify local opportunities for socialization and making friends so that your family member or friend can maintain a blossoming life rich with experiences.
SCNOVA assists older adults with aging in place by providing education and resources that families need to succeed. Contact SCNOVA to learn more about the social opportunities and resources that are available in your local area.