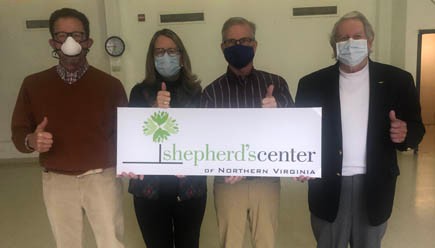 February 15, 2021
The past year has taught us much about the importance of remaining a vibrant resource for the seniors and caregivers who rely on our services in the communities we serve. Certainly, the pandemic has challenged us to find new ways of tackling most anything you can think of. For our Shepherd's Center, that included taking a look at the way we meet our mission so we ensure that we continue delivering impactful services as efficiently as possible. Anything that we can do to serve as many of the area's seniors as possible and make aging in place a bit easier makes good sense.
With this in mind, the Shepherd's Center serving Oakton, Vienna, Reston and Herndon and the Shepherd's Center of Great Falls are joining forces to continue assisting area seniors, supporting aging in place and creating a world without loneliness. The newly formed Shepherd's Center of Northern Virginia (SCNOVA) will continue its partnerships and outreach with the region's faith-based organizations, associations, and local governments to provide free transportation services, companionship, learning opportunities, and caregiver support across our expanded service area.
Several months ago, the two centers began exploring how together we might be able to give our clients and caregivers access to a richer network of services and volunteers as a broader and more efficient organization. Our newly named Shepherd's Center of Northern Virginia will give Great Falls seniors access to an enhanced set of services as well as social and educational programs and expands the corps of volunteers available to serve seniors across all of the communities that turn to us for assistance.
As an affiliate of the Shepherd's Centers of America, our mission, in part, is to support our sister organizations in the area. We're excited to welcome Great Falls' vibrant programs and dedicated volunteers to our Oakton, Vienna, Reston and Herndon Shepherd's Center. Transition is ongoing and expected to be completed by Feb. 28. During this time, we will continue to serve our seniors as we complete the work of merging our clients, volunteers and organizations. Free ride services for seniors in Great Falls will continue uninterrupted after the merger. In addition, Great Falls volunteers and clients will be transferred into SCNOVA, allowing for a seamless transition.
We are excited to begin 2021 with such good news! Working together, we hope to provide even better and more impactful services to seniors in Northern Virginia. Be sure to watch our website for the most up-to-date information on our progress, and, if you're on social media, be sure to follow us on Facebook and LinkedIn for the latest updates.
–Jayne P. Young, Interim Executive Director