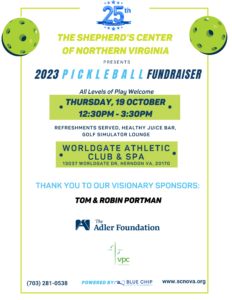 It's almost time for the biggest and most talked about SCNOVA, fundraiser of the year! Join us Thursday, October 19th, 12:30 pm – 3:30 pm at Worldgate Athletic Club & Spa in Herndon, Va., for our annual Pickleball Fundraiser and support SCNOVA. Expect 2 golf simulators, tasty bites, a healthy juice bar on-site, friends, and lots of fun.
REGISTER TODAY!  Simply input the amount of tickets you would like, then click on the "Get Tickets" button below. After you have purchased tickets, please expect an email with a link to complete your registration. You will be fully registered after you complete the form within the emailed registration link.
SPONSORSHIP OPPORTUNITIES:
*
We are able to enrich and improve the lives of older adults in the communities we serve solely because of generosity, from our sponsors.
B
ecome a SCNOVA Pickleball event sponsor today and take advantage of our many sponsorship opportunities, including having your company info published in our community guide!
 C
all 703-281-0538 or email: communications@scnova.org